Experienced Auto Accident Lawyers Serving Florida
There are always inherent risks every time you get behind the wheel of a vehicle. You can do everything right, follow every law, take every possible safety precaution and still suffer a devastating auto accident due to the negligence of another driver. Often, the injuries in these collisions can be catastrophic in nature.
The financial burdens associated with serious auto accidents can be crippling to you and your family. Medical bills can pile up quickly and if you must miss work while you recover, it can be hard to stay afloat. Fortunately, you don't have to go through this difficult time alone. The attorneys at Colling Gilbert Wright are here to help.
Our attorneys know firsthand the impact that a serious motor vehicle accident can have on your life. We have successfully represented hundreds of auto accident victims, and we'll fight aggressively to help you recover the compensation you deserve.
You can learn about your legal rights and options by speaking with one of our motor vehicle accident lawyers in person. Please call 407-712-7300 today to schedule a FREE consultation. We serve clients in Orlando and the surrounding areas of Florida.
What to Do if You're in an Auto Accident
The actions you take immediately following an auto accident can play a significant role in your ability to recover compensation during a future lawsuit. Here are a few tips to follow in the event that you're involved in a collision:
Seek medical attention – If you or someone in your vehicle is seriously injured, call 911 and request emergency medical assistance at the scene of the accident. In most instances, this won't be necessary. However, it's still crucial that you visit a doctor within 72 hours of the accident. Often, it can take days or even weeks for injury symptoms to develop, and it's crucial that you get timely treatment to minimize the likelihood of long-term issues.

Exchange contact information with the other driver – Make sure you record the following information from the other driver: name, contact information, driver's license number, license plate number, vehicle registration number and insurance information.

Document the accident scene – Take photos of the damage to your vehicle and the other driver's vehicle. If there are skid marks or other indicators that may provide insight into how the collision occurred, take photos of that evidence as well. Jot down some notes about how the accident occurred while the incident is still fresh in your mind.

Contact the police – Before leaving the scene of the accident, call the police and request that an officer come to file a report. Often, the police report will contain important evidence demonstrating the other driver was at fault.

Call your insurance company – You're legally required to notify your insurance company about the accident within a timely manner. Always answer the insurance claim agent's questions honestly, but do not admit fault. In addition, never accept an initial settlement offer or sign a waiver without consulting with an attorney first.
We encourage you to download our Florida accident app, which will guide you through all of these steps to ensure you take the right actions after your auto accident.
Types of Motor Vehicle Accident Cases We Handle
Our auto accident attorneys know how to navigate through the complicated process of filing and fighting for your motor vehicle accident claim. Accidents can become more complicated when commercial vehicles, motorcycles, bicycles, buses or pedestrians are involved. We have the knowledge and experience to handle the intricacies of the following types of cases:
Car Accidents
Car accidents are by far the most common type of motor vehicle accidents. When these collisions are minor, damage to your vehicle may be your primary concern. In these situations, you may be able to negotiate directly with the insurance company.
However, there are many instances where car accidents result in serious injuries. When this occurs, it is crucial to work with an experienced attorney who can protect your rights. There are many potential causes of a car accident, and proving fault can often be challenging. Our lawyers can help you demonstrate that the other driver caused the car accident.
In addition, insurance companies will often go to great lengths to minimize the amount of money they must pay on your claim. Our attorneys know the tactics used by insurance companies to low-ball your compensation, and we will fight to ensure that your insurance settlement reflects the true extent of your damages.
Truck Accidents
Due to the massive size and weight of commercial trucks, the injuries that occur during a truck accident are often catastrophic in nature. It's common do suffer life-altering brain injuries or spinal cord injuries in these collisions.
Often, there may be multiple parties responsible for your injuries, including the trucking company, truck driver or truck manufacturer. In addition, there are many complex state and federal laws which govern these cases. As a result, truck accidents can be some of the most complex motor vehicle accident cases. Our lawyers can help ensure your rights are protected every step of the way.
Motorcycle Accidents
Motorcycle riders often have a reputation for being reckless, but nothing can be farther from the truth. Most motorcycle riders are extremely safe and conscientious drivers who know the limitations of their vehicle and understand the dangers posed by driving such an exposed vehicle.
In fact, most motorcycle accidents are caused by the driver of the other vehicle. It's common for other motorists to fail to act responsibly when sharing the road with a motorcycle. This can have devastating consequences for the motorcycle rider.
Bus Accidents
The bus driver is often held accountable by the city or regional government for bus accidents. These large vehicles carry hundreds of people each day in major cities such as Orlando, and accidents are common.
Bus accident cases are complicated because they involve government institutions or large bus companies. Our lawyers can fight for you and help you obtain fair compensation for your damages.
Bicycle Accidents
Biking to work and biking recreationally are becoming more popular, but even with bike lanes, bicycle accidents are occurring with increasing frequency. Severe bicycle accidents can lead to brain or spinal cord injuries, broken bones and facial injuries. Seasoned bicyclists are often more adept at avoiding potential accident situations, but children, new bicyclists and those not privy to traffic laws are more vulnerable.
Pedestrian Accidents
Pedestrians have the right of way in most situations, and for good reason. The injuries sustained when a pedestrian is hit by a vehicle are often very serious. Pedestrian accidents often involve young children darting into the street while playing. Our lawyers can help you hold the negligent driver accountable for your damages.
Rideshare Car Accidents
With the rise of Uber, Lyft and many other rideshare companies, these accidents are becoming more prevalent and increasingly complicated. Rideshare companies usually rely on each driver's individual car insurance, which may cause your claim to be denied.
Our lawyers know how to navigate the complexities of these cases, and we'll help you hold the negligent parties accountable for your damages.
Railroad Crossing Accidents
Railroad crossing accidents are almost always devastating and cause the deaths of up to 1,000 people per year. Permanent injuries and resulting disabilities are also common. It's important to seek representation with our attorneys immediately after a train accident.
Potential Compensation after a Motor Vehicle Accident
Depending on the specifics of your accident, you may be entitled to recover compensation for:
Current and future medical expenses associated with the accident
Ongoing rehabilitation
Lost wages from missed work while you recover
Diminished earning capacity in situations where your injury prevents you from performing your job in the future
Costs associated with modifying your home to accommodate physical limitations after your injury
Pain and suffering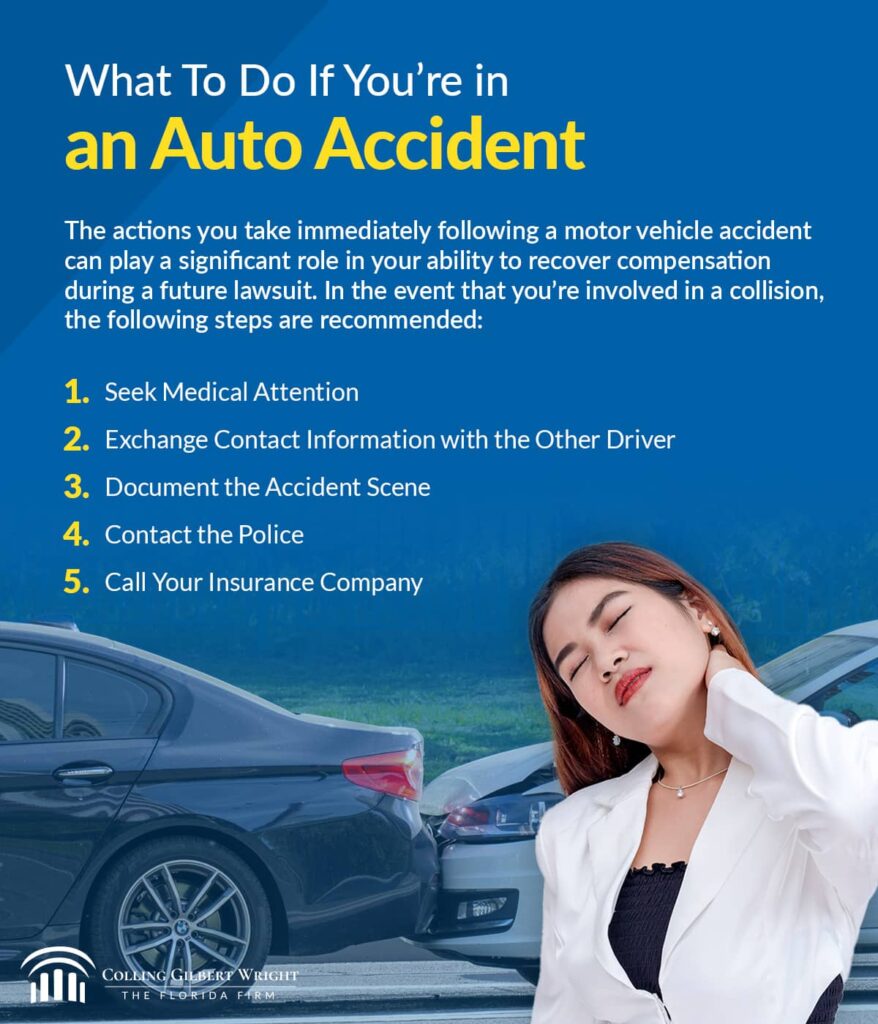 Why You Need an Auto Accident Lawyer
If you've been injured in an auto accident, it's crucial that you work with an experienced motor vehicle accident lawyer. Insurance companies usually have high-powered legal teams at their disposal, which can make getting your claim approved and maximizing your compensation difficult. Our lawyers have handled motor vehicle accident cases for decades, and we have the experience necessary to place you in the greatest likelihood of achieving a successful outcome.
Colling Gilbert Wright will give you the edge you need when pursuing an auto accident claim:
Experienced representation – There are many small details involved in these cases, and the way they are handled can mean the difference between minimal, if any, compensation and a settlement that truly reflects your loss. If neither driver has been found at fault, your claim quickly becomes more complicated. Our attorneys can identify key pieces of evidence that can help ensure a successful outcome.

Higher settlement amounts – Insurance companies often make initial settlement offers that significantly undervalue the extent of your damages. Our attorneys will consider every aspect of your case in order to ensure your settlement truly reflects the financial losses you've experienced.

Personalized care – Our lawyers are committed to providing you with the highly personalized care you deserve. One of our partners will personally handle your case, and your attorney will be available to answer your questions at any time. In addition, we will have a team of legal assistants, paralegals, investigators and medical experts assist your attorney to ensure the proper resources are dedicated to your case.
Contact our Orlando Auto Accident Attorneys
Please contact Colling Gilbert Wright using the form on this page or call 407-712-7300 today to schedule a complimentary consultation. We serve clients in Orlando and the surrounding areas of Florida.